Canadian Tobacco Tins Part 4: Tuckett Tobacco Company
Click here to read Part 1: Imperial Tobacco Company, Part 2: Rock City Tobacco Company, Part 3: MacDonald Tobacco Company
Although many others existed, there were four major tobacco companies active in Canada during the period most collectable tobacco tins were made. These tins are an integral part of the hobby and tins manufactured by the Canadian major tobacco companies: Imperial, Rock City, Tucketts, and Macdonald are featured in countless tin collections.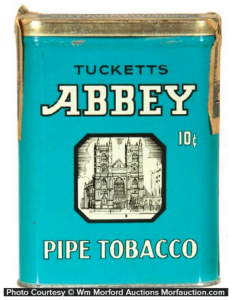 George Tuckett, a young immigrant from England was a very ambitious young man who started in business with a shoe store before switching to making cigars as a child.
Still young and restless, Tuckett sailed the Great Lakes before ending up in Hamilton, Ontario where he found work at a local glass factory. While in Hamilton, Tuckett met and old friend named A. C. Quimby whom he talked into becoming a partner in a small tobacco manufacturing company. Shortly after the company was formed, Quimby decided to remove himself from the company and left Tuckett holding the bag and searching for a new partner. As many collectors know, the company was initially known as Tuckett & Billings after Tuckett partnered up with an Ontario man named John Billings. After the formation of the new partnership, they created their first product "T&B Plug Tobacco" which quickly became one of the most popular and well-known brand of smoking tobacco in Canada.
The success of T&B derived its success from Tuckett's emphasis on consistent quality control. Such consistent quality was often lacking from tobacco manufacturers during the 1850's and the dependable and consistent product led to a loyal and profitable customer base. Tuckett and Billings did so well that in 1857 Billings decided to retire from the business and sold his stake to Tuckett who proceeded to bring his son George E. Tuckett into the business and changed the name to George E. Tuckett & Son Tobacco Company. For almost 40 years the company grew on the strength of their plug tobacco until 1892 when they expanded into the cigar market with their Marguerite brand of cigars. Marguerite cigars quickly became Canada's best selling 10-cent cigars and inspired Tuckett's to enter the cigarette market with Buckingham, Herbert Tareyton and Stroller brands which is well known for their packaging with an image of strolling musicians. Other popular collector brands from Tuckett include Orinoco, which typically featured images of angler fisherman on the namesake's river, Abbey and Old Squire which came in a 1-lb tin as well as a pocket tin variety.
As the company continued to thrive in the Canadian market, Imperial Tobacco Company acquired an interest in the company during the 1920's. Pleased with their return on investment, Imperial went on to fully acquire the company in 1930 while maintaining their keys brand and increasing exposure to the booming Canadian tobacco market.
*Courtesy of Tin Type Newsletter and its founder and editor Clark Secrest